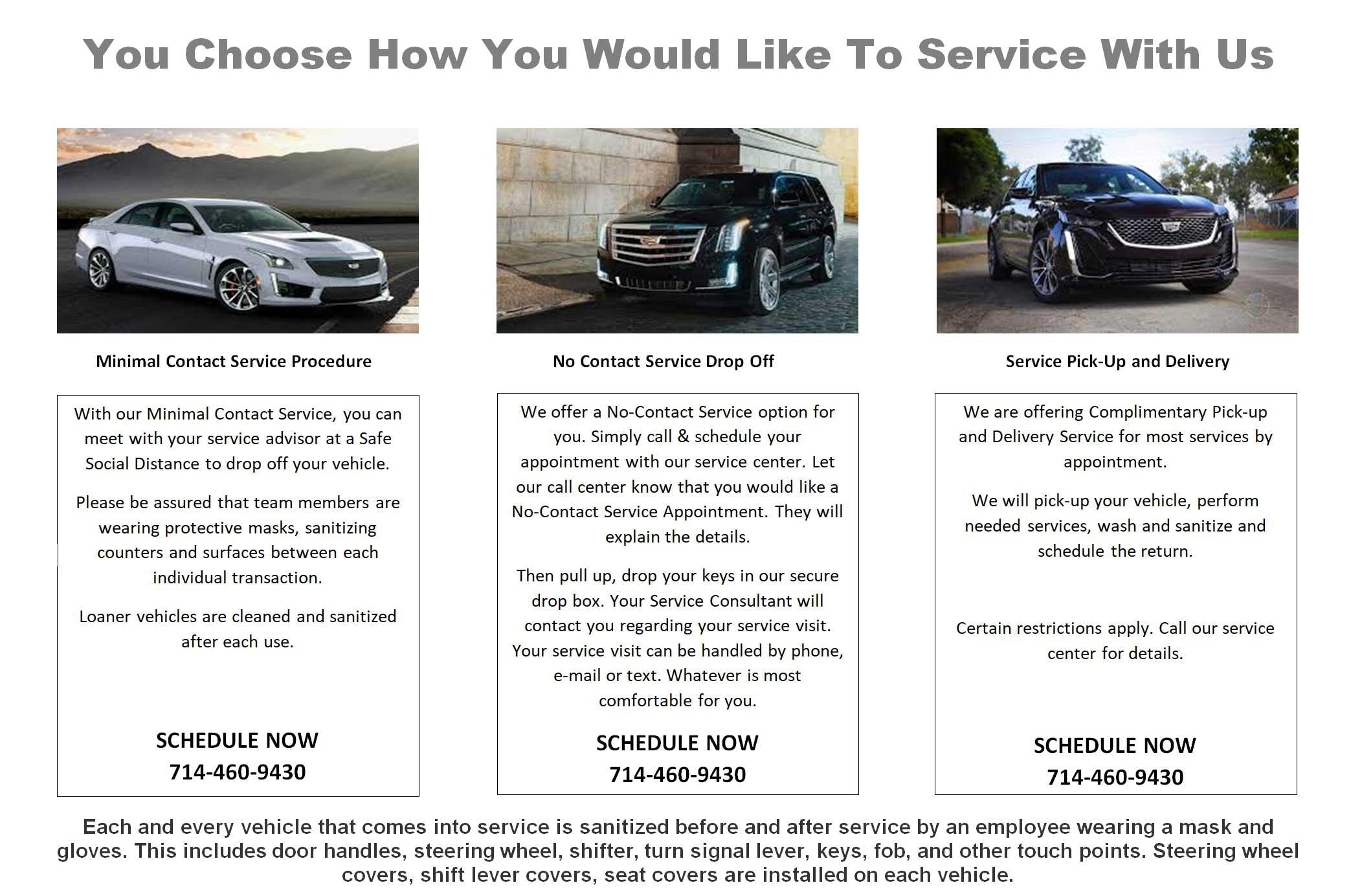 Discover Convenience Scheduling Service at Suburban Cadillac of Costa Mesa
When it's already challenging to stay up to date with your vehicle's service schedule, the last thing you need is more barriers. At Suburban Cadillac of Costa Mesa, we serve Huntington Beach and beyond by streamlining scheduling service so that you can spend less time getting your car service and more time enjoying your time behind the wheel.
Whether you're looking for a complicated repair or routine service, our service team is here to help drivers around Newport Beach and surrounding areas. Find out how easy it can be to schedule service and why so many Tustin drivers choose us.
How to Schedule Service Online
While calling us to schedule an appointment is always an option, many drivers prefer the speed, transparency, and convenience of scheduling service with us online. You can schedule your next service appointment in only a few steps, taking only a minute or two to complete. With intuitive steps guiding you through the process, you can schedule at your own pace without any sense of pressure.
The scheduling process is straightforward, and returning customers can complete the process even faster. The steps to scheduling online include:
Vehicle Information: The first step is to provide vehicle information so that our team knows what to expect and how to provide the best service. Choose the brand, model year, model, and mileage as a first step.
Choose Services: We provide a list of common services and a complete list of all services to help you save time and choose the best options for your vehicle. Not sure what your vehicle needs? Describe to us the issue, and we can help.
Transportation: We want to make sure your day goes as smoothly as possible. Let us know your plans, and we can accommodate you with shuttle service if needed.
Select a Date and Time: View our calendar to see which times are available. If you have a preference for an advisor, you can fine-tune your options even further.
Review and Contact: To wrap up, provide us with your contact information and how to reach you best. We can even send you updates and reminders to ensure you don't miss out.
Why Choose Suburban Cadillac of Costa Mesa?
With the combination of our expert collision center and service center, you can discover the service and repair you need with us. We offer a state-of-the-art facility, specialized equipment, and factory-trained technicians to provide you with the professionalism you need. You will discover affordability, precision, and speed when you choose us.
Some of the top services we provide include:
Oil Change
Wheel Alignment
Brake Service
Tire Rotation
Windshield Wiper Replacement
Our team knows the ins and outs of most brands but specializes in the Cadillac brand. All technicians know current best practices and standards to ensure your vehicle gets the best possible care. Instead of taking a risk with an inexperienced mechanic, service is done right the first time when you come to your service center.
Maximize Your Service Savings
If you're looking to keep your service costs to a minimum, browse our service specials. We routinely offer deals on regular maintenance to help you save money and keep up to date with your recommended service schedule. With new deals available every month or so, you can continually find new opportunities to save on high-quality service.
Schedule Service near Fountain Valley
Get started scheduling service online or give us a call.